Sri Sri Ravi Shankar: The Way of Grace
(View in landscape mode.)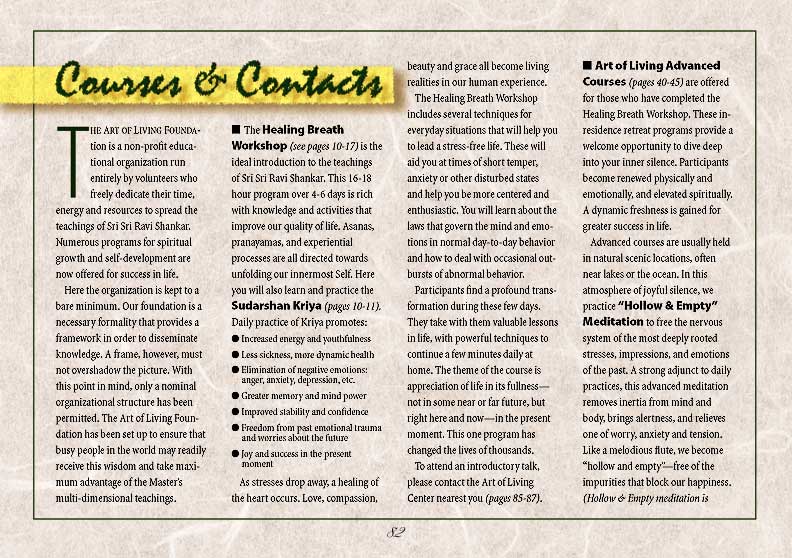 Courses and Contacts
The Art of Living Foundation is a non-profit educational organization run entirely by volunteers who freely dedicate their time, energy and resources to spread the teachings of Sri Sri Ravi Shankar. Numerous programs for spiritual growth and self-development are now offered for success in life.
Here the organization is kept to a bare minimum. Our foundation is a necessary formality that provides a framework in order to disseminate knowledge. A frame, however, must not overshadow the picture. With this point in mind, only a nominal organizational structure has been permitted. The Art of Living Foun-dation has been set up to ensure that busy people in the world may readily receive this wisdom and take maximum advantage of the Master's multi-dimensional teachings.
The Healing Breath Workshop (see pages 10-17) is the ideal introduction to the teachings of Sri Sri Ravi Shankar. This 16-18 hour program over 4-6 days is rich with knowledge and activities that improve our quality of life. Asanas, pranayamas, and experiential processes are all directed towards unfolding our innermost Self. Here you will also learn and practice the Sudarshan Kriya (pages 10-11). Daily practice of Kriya promotes:
Increased energy and youthfulness
Less sickness, more dynamic health
Elimination of negative emotions:
anger, anxiety, depression, etc.
Greater memory and mind power
Improved stability and confidence
Freedom from past emotional trauma
and worries about the future
Joy and success in the present moment
As stresses drop away, a healing of the heart occurs. Love, compassion, beauty and grace all become living realities in our human experience.
The Healing Breath Workshop includes several techniques for everyday situations that will help you to lead a stress-free life. These will aid you at times of short temper, anxiety or other disturbed states and help you be more centered and enthusiastic. You will learn about the laws that govern the mind and emotions in normal day-to-day behavior and how to deal with occasional outbursts of abnormal behavior.
Participants find a profound transformation during these few days. They take with them valuable lessons in life, with powerful techniques to continue a few minutes daily at home. The theme of the course is appreciation of life in its fullness — not in some near or far future, but right here and now — in the present moment. This one program has changed the lives of thousands.
To attend an introductory talk, please contact the Art of Living Center nearest you (pages 85-87).
Art of Living Advanced Courses (pages 40-45) are offered for those who have completed the Healing Breath Workshop. These in-residence retreat programs provide a welcome opportunity to dive deep into your inner silence. Participants become renewed physically and emotionally, and elevated spiritually. A dynamic freshness is gained for greater success in life.
Advanced courses are usually held in natural scenic locations, often near lakes or the ocean. In this atmosphere of joyful silence, we practice "Hollow & Empty" Meditation to free the nervous system of the most deeply rooted stresses, impressions, and emotions of the past. A strong adjunct to daily practices, this advanced meditation removes inertia from mind and body, brings alertness, and relieves one of worry, anxiety and tension. Like a melodious flute, we become "hollow and empty" — free of the impurities that block our happiness. (Hollow & Empty meditation is offered in one hour sessions on Art of Living Advanced Courses only.)
Other techniques are also included on courses from time to time:
Meditation in Motion
Integrates activity and meditation. A technique that demonstrates how your true nature is beyond pain and pleasure. (40 minute sessions on Advanced Courses only)
Hari Om Meditation
Recharges the various energy
centers within the nervous system.
Mudras (page 45)
and Bhandas
La La Technique
5 Element Meditation
Bowing Down Technique
Panchakosha
Yoga of Prayer
(Prathana Yoga)
Upanaya (gazing)
Yoga Nidra
Advanced Courses also include asanas, pranayamas and group practice of Sudarshan Kriya. Various games and spontaneous activities make it impossible to guess what will come next. Time is also available for one's private meditation, nature walks, and helping with the responsibilities of the course (everyone plays the role of a host — there are no guests!). Each evening ends with a celebration of singing, dancing and marvelous wisdom.
From time to time, Advanced Courses are offered in the presence of Sri Sri Ravi Shankar. Activities on these courses are even more unpredictable! The first few days with the Master is the experience of a lifetime…and it continues to grow.
For information on Advanced Courses in your area, please call your local Art of Living Center.
Sahaj Samadhi Meditation (page 18)
You can enjoy the silence and serenity of Sahaj Samadhi meditation in the comfort of your own home. Personal instruction is offered at Art of Living Centers around the world in this format:
Introductory talk gives informa-
tion about the technique, allows you to ask questions, and introduces you to your meditation instructor (1 hour)
Private instruction in Sahaj
Samadhi meditation (1 hour)
Group follow-up sessions
over the next two or three evenings are essential to fine tune the art of effortless meditation. (1.5 hours each)
Please contact your local Art of Living Center for the Sahaj Samadhi instructor in your area.