Sri Sri Ravi Shankar: The Way of Grace
(View in landscape mode.)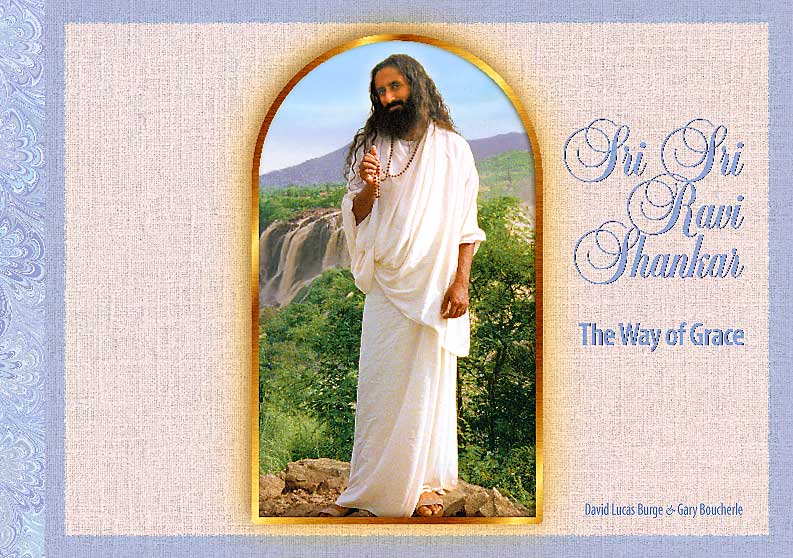 Welcome!
Here you can read the book, Sri Sri Ravi Shankar, The Way of Grace (published 1996)
You'll get a heart-warming glimpse back to the very early days of the Art of Living Foundation with His Holiness Sri Sri Ravi Shankar. These were timeless moments we could share personally with Sri Sri on small courses at exotic locations around the world, long before the huge crowds of today.
When writing this book, Guruji called me one day in Hawaii and said, "What should my name be for the book?" Up til that point we had been calling him simply as "Punditji."
We had thought he should be known as "Sri Sri." So I mentioned that this would sound very nice. So from that moment, we changed his name in the Way of Grace book, and titled him as Sri Sri Ravi Shankar officially for the very first time. And he has been known by this name ever since.
In January 1996, Guruji came to my home on the Garden Island of Kauai, Hawaii, where we hosted a course for 92 people — in my living room! — overlooking the ocean. Each night for a week about 130 people crowded into my living room for evening Satsang.
Another time when Guruji stayed at my home in Hawaii, he told me my dharma was to teach meditation — to the world. He appointed me President of Art of Living in the year 2000.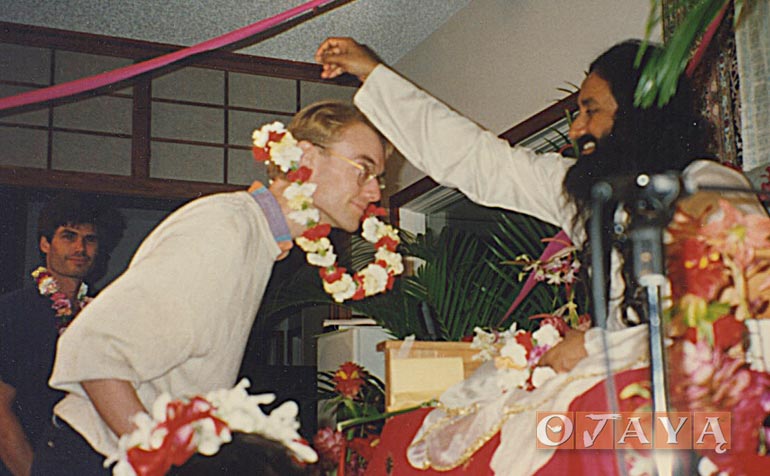 A New Meditation Movement
I mentioned to Guruji that there was a great need for a new organization that would reach the West with a different approach than that of Art of Living, which is very much a guru-bhakti organization replete with the ancient customs, culture and exotic flavor of Mother India.
Having lived and travelled in India over years, I loved to savor the Indian culture. Yet I also knew that many in the West would hesitate to learn the ancient techniques of classic deep meditation with such cultural overtones, however traditional, colorful, and wonderful.
While in Bali, Guruji gave me special advice on teaching meditation within the new organization I would establish. Later he told me, "Many people from Art of Living will come over to your movement."
I went on to establish this new organization — the OJAYA Dharma Sangha.
"OJAYA" means energy and strength. We specialize exclusively in teaching our online course: OJAYA: The Martial Art of Deep Meditation — a rare and supremely powerful mantra technique for busy people who come from all different spiritual and cultural backgrounds. We now have students around the world on six continents.
Our course videos are exquisitely produced in the Earthborn Rainforest — an epic journey of sublime knowledge and blissful experience.
We cordially invite anyone to enroll who wishes to explore, refine and enrich their meditation experiences with these easy, effortless techniques of classic deep meditation.
In my quiet moments, my thoughts often return to those precious early days with Guruji, as we followed him around the world for years.
This book is a souvenir from those intimate times we all shared together with our beautiful Art of Living friends from around the world.
To all of you who were with us in those early days, and who shared those magical times that we will forever cherish …
This book — and this site — are dedicated to YOU with fondness of memories.
Love,
David Lucas Burge