Sri Sri Ravi Shankar: The Way of Grace
(View in landscape mode.)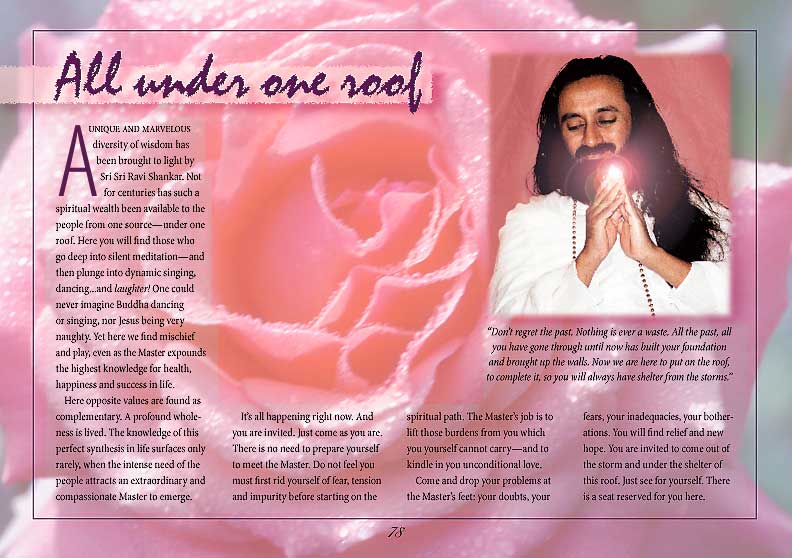 All Under One Roof
A unique and marvelous diversity of wisdom has been brought to light by Sri Sri Ravi Shankar. Not for centuries has such a spiritual wealth been available to the people from one source — under one roof. Here you will find those who go deep into silent meditation — and then plunge into dynamic singing, dancing…and laughter! One could never imagine Buddha dancing or singing, nor Jesus being very naughty. Yet here we find mischief and play, even as the Master expounds the highest knowledge for health, happiness and success in life.
Here opposite values are found as complementary. A profound wholeness is lived. The knowledge of this perfect synthesis in life surfaces only rarely, when the intense need of the people attracts an extraordinary and compassionate Master to emerge.
It's all happening right now. And you are invited. Just come as you are. There is no need to prepare yourself to meet the Master. Do not feel you must first rid yourself of fear, tension and impurity before starting on the spiritual path. The Master's job is to lift those burdens from you which you yourself cannot carry — and to kindle in you unconditional love.
Come and drop your problems at the Master's feet: your doubts, your fears, your inadequacies, your bother-ations. You will find relief and new hope. You are invited to come out of the storm and under the shelter of this roof. Just see for yourself. There is a seat reserved for you here.