Sri Sri Ravi Shankar: The Way of Grace
(View in landscape mode.)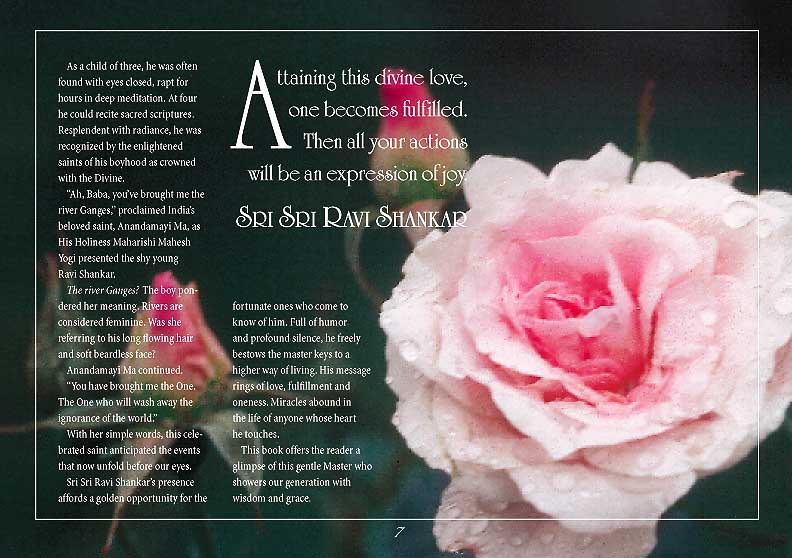 As a child of three, he was often found with eyes closed, rapt for hours in deep meditation. At four he could recite sacred scriptures. Resplendent with radiance, he was recognized by the enlightened saints of his boyhood as crowned with the Divine.
"Ah, Baba, you've brought me the river Ganges," proclaimed India's beloved saint, Anandamayi Ma, as His Holiness Maharishi Mahesh Yogi presented the shy young Ravi Shankar.
The river Ganges? The boy pondered her meaning. Rivers are considered feminine. Was she referring to his long flowing hair and soft beardless face?
Anandamayi Ma continued.
"You have brought me the One. The One who will wash away the ignorance of the world."
With her simple words, this celebrated saint anticipated the events that now unfold before our eyes.
Sri Sri Ravi Shankar's presence affords a golden opportunity for the fortunate ones who come to know of him. Full of humor and profound silence, he freely bestows the master keys to a higher way of living. His message rings of love, fulfillment and oneness. Miracles abound in
the life of anyone whose heart he touches.
This book offers the reader a glimpse of this gentle Master who showers our generation with wisdom and grace.
"Attaining this divine love, one becomes fulfilled.
Then all your actions will be an expression of joy."
Sri Sri Ravi Shankar