Sri Sri Ravi Shankar: The Way of Grace
(View in landscape mode.)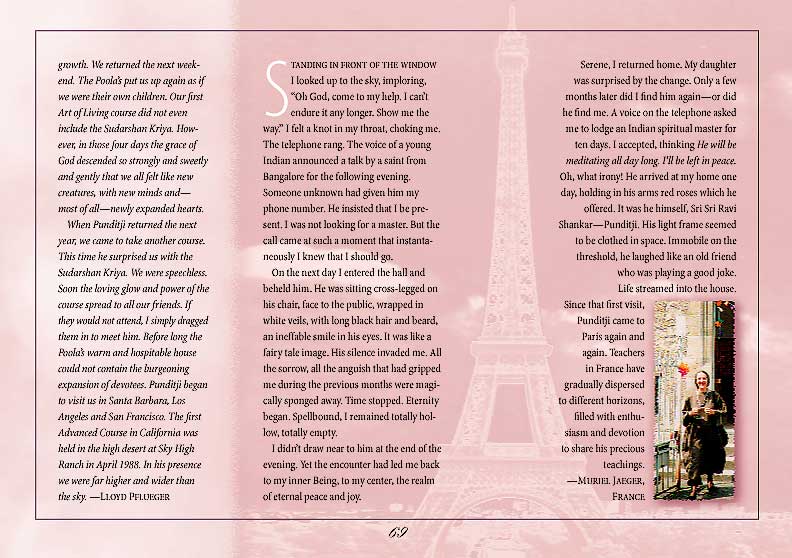 The Miracle of Grace, continued …
Standing in front of the window I looked up to the sky, imploring, "Oh God, come to my help. I can't endure it any longer. Show me the way." I felt a knot in my throat, choking me. The telephone rang. The voice of a young Indian announced a talk by a saint from Bangalore for the following evening. Someone unknown had given him my phone number. He insisted that I be present. I was not looking for a master. But the call came at such a moment that instantaneously I knew that I should go.
On the next day I entered the hall and beheld him. He was sitting cross-legged on his chair, face to the public, wrapped in white veils, with long black hair and beard, an ineffable smile in his eyes. It was like a fairy tale image. His silence invaded me. All the sorrow, all the anguish that had gripped me during the previous months were magically sponged away. Time stopped. Eternity began. Spellbound, I remained totally hollow, totally empty.
I didn't draw near to him at the end of the evening. Yet the encounter had led me back to my inner Being, to my center, the realm of eternal peace and joy. Serene, I returned home. My daughter was surprised by the change. Only a few months later did I find him again — or did he find me. A voice on the telephone asked me to lodge an Indian spiritual master for ten days. I accepted, thinking He will be meditating all day long. I'll be left in peace. Oh, what irony! He arrived at my home one day, holding in his arms red roses which he offered. It was he himself, Sri Sri Ravi Shankar — Punditji. His light frame seemed to be clothed in space. Immobile on the threshold, he laughed like an old friend who was playing a good joke. Life streamed into the house.
Since that first visit, Punditji came to Paris again and again. Teachers in France have gradually dispersed to different horizons, filled with enthusiasm and devotion to share his precious teachings. — Muriel Jaeger, France