Sri Sri Ravi Shankar: The Way of Grace
(View in landscape mode.)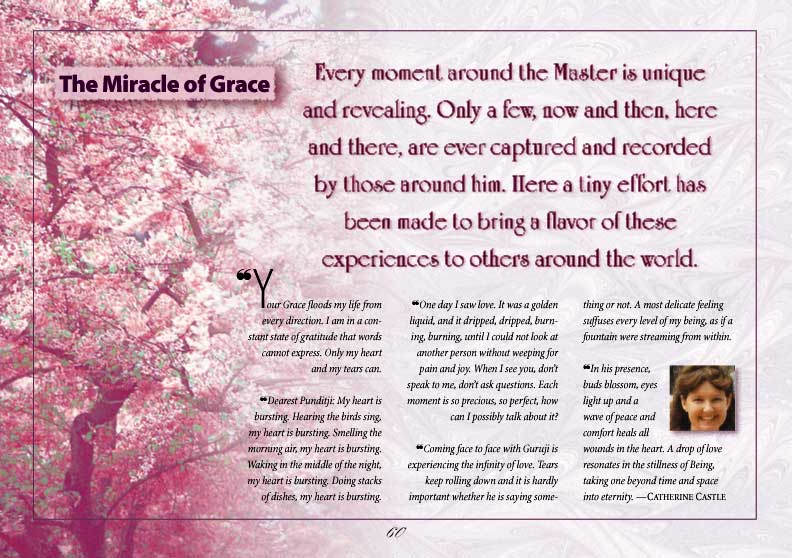 The Miracle of Grace
Every moment around the Master is unique and revealing. only a few, now and then, here and there, are ever captured and recorded by those around him. Here a tiny effort has been made to bring a flavor of these experiences to others around the world.
Your Grace floods my life from every direction. I am in a constant state of gratitude that words cannot express. Only my heart and my tears can.
Dearest Punditji: My heart is bursting. Hearing the birds sing, my heart is bursting. Smelling the morning air, my heart is bursting. Waking in the middle of the night, my heart is bursting. Doing stacks of dishes, my heart is bursting.
One day I saw love. It was a golden liquid, and it dripped, dripped, burning, burning, until I could not look at another person without weeping for pain and joy. When I see you, don't speak to me, don't ask questions. Each moment is so precious, so perfect, how can I possibly talk about it?
Coming face to face with Guruji is experiencing the infinity of love. Tears keep rolling down and it is hardly important whether he is saying something or not. A most delicate feeling suffuses every level of my being, as if a fountain were streaming from within.
In his presence, buds blossom, eyes light up and a wave of peace and comfort heals all wounds in the heart. A drop of love resonates in the stillness of Being, taking one beyond time and space into eternity. — Catherine Castle