Sri Sri Ravi Shankar: The Way of Grace
(View in landscape mode.)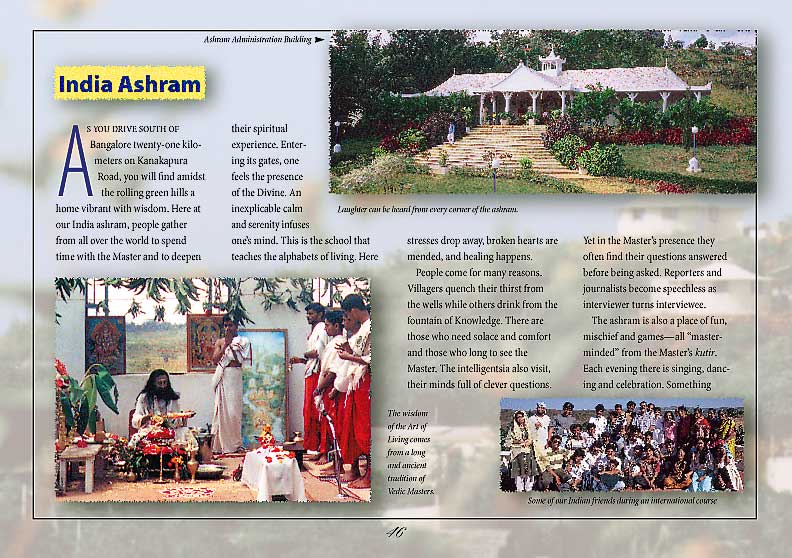 Art of Living India Ashram
As you drive south of Bangalore twenty-one kilometers on Kanakapura Road, you will find amidst the rolling green hills a home vibrant with wisdom. Here at our India ashram, people gather from all over the world to spend time with the Master and to deepen their spiritual experience. Entering its gates, one feels the presence of the Divine. An inexplicable calm and serenity infuses one's mind. This is the school that teaches the alphabets of living. Here stresses drop away, broken hearts are mended, and healing happens.
People come for many reasons. Villagers quench their thirst from the wells while others drink from the fountain of Knowledge. There are those who need solace and comfort and those who long to see the Master. The intelligentsia also visit, their minds full of clever questions. Yet in the Master's presence they often find their questions answered before being asked. Reporters and journalists become speechless as interviewer turns interviewee.
The ashram is also a place of fun, mischief and games — all "master-minded" from the Master's kutir. Each evening there is singing, dancing and celebration. Something unique here is that at various times, day or night, laughter can be heard from every corner of the ashram.
In India, the Art of Living is gaining popularity in the corporate sector. Executives report dramatic transformations from stressful work and lifestyles to higher levels of efficiency without stress. Among workers, a sense of belonging to the company is inspired that results in higher productivity and harmony on the job. Improvements in health have reduced absenteeism and the drain on corporate resources. Through simple practices and principles, the Art of Living addresses complex problems with solutions that work from the core level of company life — the individual.
Large India corporations that have already prospered through Art of Living programs include: BEL, Berger Paints, Buildworth India Ltd., BHEL, Chartered Bank, Cochin Refineries, Dhanalakshmi Bank, Eastern Spinning, Effluent and Water Treatment, Fertilizers and Chemicals Travancore Ltd., Ganges Jute Mill, Garden Cafe, GIS Industries, Guest Keen Williams, Hindustan Motors, ICI, Indian Aluminum, Indian Oil, Jayshree Textiles, Kesoram, Rajda Sales, Shaw Wallace, Tinplate Company Ltd., TRF, Tribeni Tissues, Usha Martin, Wipro.
—–
Beloved Guruji:
This ashram is, for me, more than a "five stars" hotel. It offers Beauty all around me: sunrise, sunset, beautiful flowers, colorful butterflies, peaceful gardens, and silence to take time to enjoy these things.
It is a place for observing without judgment, a place for breathing, for laughing, for singing. It's a place for becoming aware that I belong to the Universe. I learn here that there is no difference between us. In spite of our nationalities, languages or religions, we are all part of the same universe and we belong to the same God. Here I'm finding guests who are hosts and who are doing the best they can to share love with each other.
This place is full of your presence, your joy and your love. It is easier here to let it be, let things happen as they come. Thank you for the awareness of the life I'm feeling inside of me and all around me…and for loving me as I am. Thank you so much for this "ten stars" hotel! — A Course Participant
P.S. I think that this "ten stars" hotel is portable because it's inside of me now. I hope I'll spend much time in my inner ashram.
—–
Laughter can be heard from every corner of the ashram.
The wisdom of the Art of Living comes from a long and ancient tradition of Vedic Masters.
Sumeru is a unique structure that greets visitors from atop the highest hill at the ashram. With the dome of the evening sky, it is a breathtaking amphitheater for talks from the Master under the moonlight.