Sri Sri Ravi Shankar: The Way of Grace
(View in landscape mode.)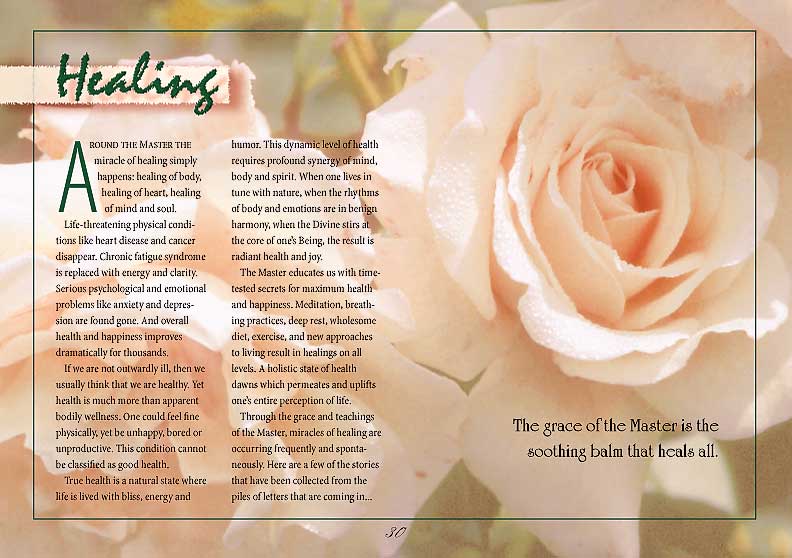 Healing
The grace of the Master is the soothing balm that heals all.
Around the Master the miracle of healing simply happens: healing of body, healing of heart, healing of mind and soul.
Life-threatening physical conditions like heart disease and cancer disappear. Chronic fatigue syndrome is replaced with energy and clarity. Serious psychological and emotional problems like anxiety and depression are found gone. And overall health and happiness improves dramatically for thousands.
If we are not outwardly ill, then we usually think that we are healthy. Yet health is much more than apparent bodily wellness. One could feel fine physically, yet be unhappy, bored or unproductive. This condition cannot be classified as good health.
True health is a natural state where life is lived with bliss, energy and humor. This dynamic level of health requires profound synergy of mind, body and spirit. When one lives in tune with nature, when the rhythms of body and emotions are in benign harmony, when the Divine stirs at the core of one's Being, the result is radiant health and joy.
The Master educates us with time-tested secrets for maximum health and happiness. Meditation, breathing practices, deep rest, wholesome diet, exercise, and new approaches to living result in healings on all levels. A holistic state of health dawns which permeates and uplifts one's entire perception of life.
Through the grace and teachings of the Master, miracles of healing are occurring frequently and spontaneously. Here are a few of the stories that have been collected from the piles of letters that are coming in…