Sri Sri Ravi Shankar: The Way of Grace
(View in landscape mode.)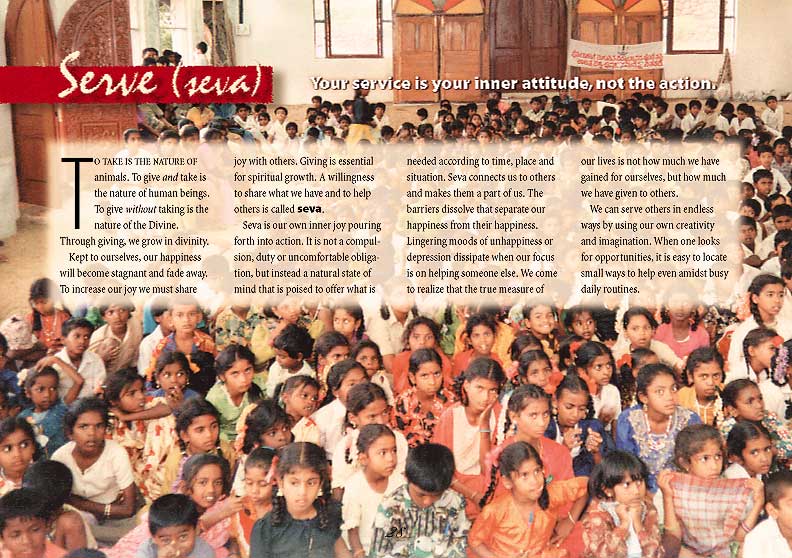 Serve (Seva)
Your service is your inner attitude, not the action.
To take is the nature of animals. To give and take is the nature of human beings. To give without taking is the nature of the Divine. Through giving, we grow in divinity.
Kept to ourselves, our happiness will become stagnant and fade away. To increase our joy we must share joy with others. Giving is essential for spiritual growth. A willingness to share what we have and to help others is called seva.
Seva is our own inner joy pouring forth into action. It is not a compulsion, duty or uncomfortable obligation, but instead a natural state of mind that is poised to offer what is needed according to time, place and situation. Seva connects us to others and makes them a part of us. The barriers dissolve that separate our happiness from their happiness. Lingering moods of unhappiness or depression dissipate when our focus is on helping someone else. We come to realize that the true measure of our lives is not how much we have gained for ourselves, but how much we have given to others.
We can serve others in endless ways by using our own creativity and imagination. When one looks for opportunities, it is easy to locate small ways to help even amidst busy daily routines.
The Art of Living Foundation is a global service project for enriching the lives of people everywhere. Our goal is to share the teachings of Sri Sri Ravi Shankar with all who wish to benefit from his wisdom. Various projects are continually in progress throughout the world that are supported solely by many cheerful and dedicated volunteers.
Our sister foundation in India sponsors a school for children in the poorer regions surrounding Bangalore (photo opposite page). The Institute of Vedic Science, Ved Vignan Mahavidyapeeth, is a charitable non-profit school founded in 1981 by Sri Sri Ravi Shankar. Educational and medical services are granted to boys and girls from twenty-two surrounding villages. Students from age five to twenty are provided with balanced meals, regular medical care, school supplies and uniforms. Since public schooling is not available in the villages and tuition for distant private schools is too costly, the Institute offers these youngsters the only opportunity they will have to acquire the education and skills to become self-sufficient adults. All services are administered at no charge to each child through donations from supporting individuals and groups. (For information, please see the "Dollar-A-Day" Program on page 84.)
Service, whatever form it takes, is the flow of love from one human being to another. This desire to share is our basic nature. Sincere giving — without any expectation of return — breaks the boundaries of conditional love and expands our ability to love every human being unconditionally.
Service is the expression of love. Serve in whatever possible manner you can. Ask yourself, "How can I be useful to people around me, and to the whole world?" Then your heart starts blossoming and a completely new level begins. Otherwise we're always thinking, "What about me, what about me?" It's nothing! Ask, "How can I be useful, how can I give to the world?" The best seva is helping someone to understand this eternal nature of life. — Sri Sri Ravi Shankar
—–
On Art of Living courses, voluntary opportunities to participate in seva activities are often part of the daily routine, such as cooking, cleaning, gardening or childcare.
—–
For the first time, I understand service as the natural action arising from a heart overflowing with love. — Judith Youett