Sri Sri Ravi Shankar: The Way of Grace
(View in landscape mode.)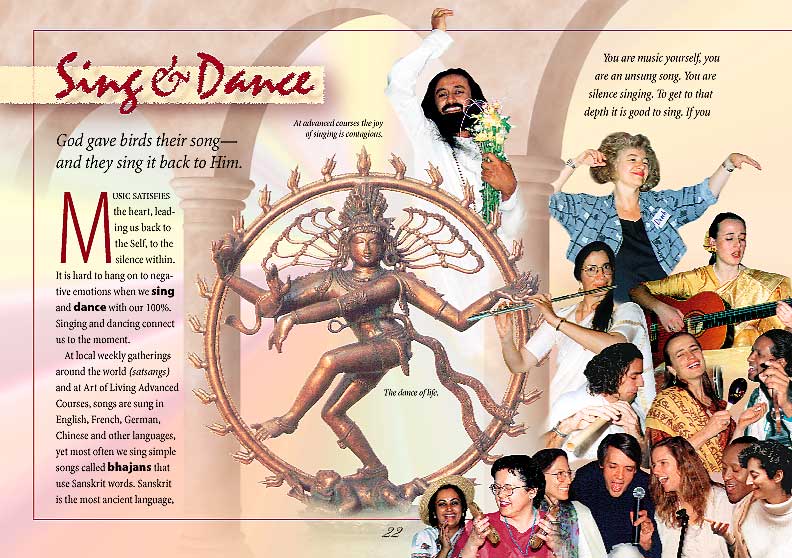 Sing Bhajans and Dance
God gave birds their song — and they sing it back to Him.
Music satisfies the heart, leading us back to the Self, to the silence within. It is hard to hang on to negative emotions when we sing and dance with our 100%. Singing and dancing connect us to the moment.
At local weekly gatherings around the world (satsangs) and at Art of Living Advanced Courses, songs are sung in English, French, German, Chinese and other languages, yet most often we sing simple songs called bhajans that use Sanskrit words. Sanskrit is the most ancient language, and our consciousness itself is also very ancient. Sanskrit sounds have a profound resonance on the nervous system that uplifts, purifies and energizes the mind, body and emotions, and helps the heart to open. Bhajan means sharing. The diverse minds in the group become one mind shared in one song. Musical instruments are often added. An ordinary evening becomes a celebration.
Many people feel shy to sing the first time they come. But even the most serious person in the group quickly drops all inhibitions and gets swept away in the beautiful and repeating melodies of the bhajans. Like soft waves that caress the heart, the soothing tones uproot old sadness and pain, transforming them into new buds of compassion. Love blooms.
You are music yourself, you are an unsung song. You are silence singing. To get to that depth it is good to sing. If you feel like dancing, get up and dance. Involve yourself fully with your mind and body. That becomes ecstasy. — Sri Sri Ravi Shankar
—–
He was moving among us, his head tilted, face lifted, leaning back until I was amazed he did not fall, held by an invisible thread, turning, gracefully turning, white robe flowing. Surrender was instantaneous. I was a partner in the dance. The song flowed from within and beyond me. For a sublime moment I was the song, the song was dancing in me. All other moments were washed from memory. There was no experience but this.
Then he sat on the edge of the dais, eyes closed, still. Grace flowed from him to us, from us to him. Everyone was on their knees. In the silence that fell so suddenly upon us, time stopped, fulfilled, complete. The silence was broken by a movement. Punditji was brushing a tear from his cheek. Then he was gone. It didn't matter. I knew now. I knew in the secret chamber of my heart. I knew in an eternal moment that was forever mine. I had seen what I could never have imagined or dreamt of. I had glimpsed another reality and all else was illusion. — Judy Clark